Pergola word came from the Latin word "Pergula" which means "projecting eave". Eaves are basically part of the roof, and they are added to the roof to give your home uniqueness. Eaves not only decorate your roofing system but also protect your house from rain and snowfalls. Modern days people come with many varieties of pergolas which are mainly used for providing and decorating an outdoor space. From the swimming pool, garden, field to the outer premises of office malls, you can easily decorate small residential or commercial areas with designable pergolas despite thinking of size.
Now you know what pergola is and where we can use it. The most popular type of pergola is Retractable Pergola. Its unique designs, modern functionality, cost-effectiveness make retractable pergolas easy to set into any kind of structure. If you value your outdoor life and want more relaxing places surrounding your home, a retractable pergola shade system should be our right choice. So basically, retractable pergolas are the form of a series of horizontal slats which are angled to pass light and air but keep out rain, heat, and snow. That's why retractable pergolas are becoming very popular among homeowners who are willing to decorate entrances with aesthetic shades, also giving priority to living closer to nature.
Things to consider before installing Retractable Pergola:
As Retractable Pergolas are coming with many designs, models you need to understand the difference between awning and pergola. Awnings are completely different from pergolas, and these are made with cotton, polyester yarn, vinyl laminated, and many more. Retractable Pergolas are mainly composed of wood or aluminum. As we install pergola shades for long-term use it is useful to select durable materials, but also retractable awnings are made with plastic, steel. Galvanized steel etc.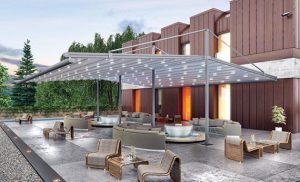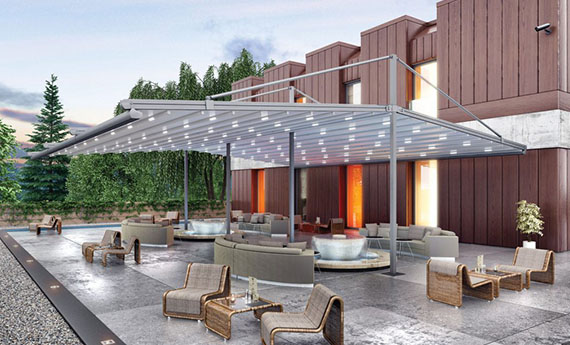 Benefits of Retractable Pergola Shade:
● Perfect protection from the weather: A Retractable Pergola gives you unique control over nature and you can enjoy nature, rainy season, sunny days under a perfect fashionable retractable pergola structure. If you are a nature-loving person then we can guarantee pergolas must be the thing you are finding to decorate your home.
● Aesthetic Design: Retractable Pergolas mainly decorate your home in an elegant way. If you want a classy interior design for indoor and outdoor decoration, then pergola shades are the right choice because they are giving you modern shades made with innovative fabrics and aluminum designs. Smart Roof Shade System provides you with a customized retractable pergola in which you can choose the designs, models, sizes, and many more. These aesthetic design pergolas surely add value to your home & business premises.
● Remote Control: Motorized Retractable Pergola or awnings are the best fit for any outdoor premises. Operated by an integrated tubular motor, motorized pergolas can extend and retract automatically with a remote-control system.
● Cost & Size: Retractable Pergolas are cost-effective, and their prices totally depend on quality & complex size. Our smart roof shade system has the most budget-friendly products with various sizes, models.
If you are interested in decorating indoor or outdoor places with fashionable pergolas you can contact our technical team. Smart Roof Shade System is one of the popular manufacturers of roofing systems, based in Dubai. We provide long-lasting, comprehensive products which easily bring value to your home or business places. For any consultation feel free to call us.