Gate Shade represents the beginning of a cooperation with Nicolas Thomkins, a designer of international fame, for the development of Unosider's range. The arch with its pure and modern design is the core of the structure, which integrates two arm awnings, a customized hi-fi system and LED stripes. Nicolas Thomkins has created a structure of great beauty and aesthetic value whether fully opened providing suitable cover from the sun or collected. All accessories, in fact, are perfectly build within the Gate's frame which becomes a perfect architectural element. The metal housing of the arch is available in several colors, while the inner frame is made of steel.Both integrated arm awnings can be operated via a remote control, and provide a 30 square meters maximum covered area.
Available as accessories, Unosider proposes also flower boxes and garden benches to be used as ballast to stabilize the structure when anchoring the frame to the ground isn't possible.
Get Top Quality Gate Shade System | Modern Architectural & Customisable
At Smart Roof Shade Systems, we are excited to be the dealers for GATE SHADE products from ITALY. Our professional and technical team is now able to design these structures to add both beauty and value to your living space. With our experience and expertise, we are confident that we can provide you with the best possible service.
Want to decorate your place? Give a call us at +971504365004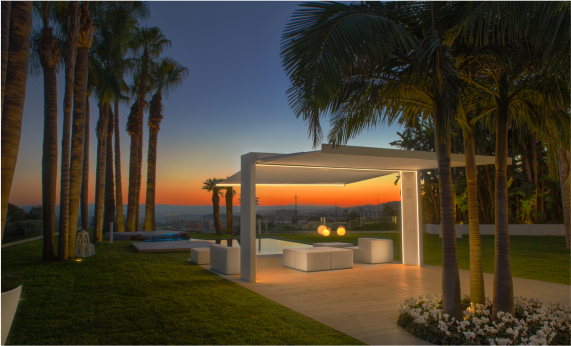 Structure:
Internal framework in steel profiles worked with hot dip galvanizing treatment
External cover in formed, laser cut, galvanised sheet
Epoxy powder coating resin polyester, available in colours: Matt White, Titanium, Anthracite, Corten, Matt black
Canopy:
Electric awnings with integrated front profile
Canopy in acrylic fabric
Colours available:
GS01 pure white, GSO2 soft white, GSO3 beige, GSO4 soft beige, GSO5 melage, GSO6 beton, GSO7 taupe grey, GSO8 deep grey, GSO9 black, GS10 blue